Morning mail: London attack suspect named
This
post
was originally published on
this site
Good morning, this is Eleanor Ainge Roy bringing you the main stories and must-reads on Tuesday 20 June.
Top stories
A 47-year-old man has been arrested on suspicion of attempted murder after driving his van into a crowd of Muslim worshippers in north London, in the fourth terrorist attack on Britain in three months. According to witnesses Darren Osborne, from Cardiff, shouted, "I want to kill all Muslims," as he drove a van into a crowd in Finsbury Park. Neighbours said that at the weekend Osborne had called a 12-year-old Muslim neighbour an "inbred" and had been thrown out of a local pub for getting drunk, "cursing Muslims and saying he would do some damage". Nine people were injured in what Theresa May condemned as a "sickening" act of violence against peaceful citizens.. Imam Mohammed Mahmoud has been widely praised for protecting Osborne from an angry crowd following the attack, shouting, "No one touch him – no one, no one!," to ensure his safety until police arrived to detain him.
Reports of hate crimes against Muslims have been on the rise since the Westminister attack, and Nesrine Malik writes that Britain needs to tackle its preachers of anti-Muslim hate head on.
Today's Guardian Essential poll finds that a concerted push by the National party to drum up support for coal-fired energy after the Finkel review has fallen on largely deaf ears in voter-land. A majority – 64% – would prefer investment in renewables, as long as it doesn't hit power bills too hard. The two-party preferred-vote is unchanged, with Labor on 52% and the Coalition on 48%.
Russia has responded angrily to the US shooting down a Syrian fighter jet by warning it would treat any plane from the US-led coalition flying west of the Euphrates river as a potential target. The Russian foreign ministry said it would suspend its communication channel with US forces, though a top US general, Joseph Dunford, downplayed the rising tension, saying the hotline between US and Russian command bases was still open and would be used to defuse the situation.
The UK has caved to EU demands on the first day of Brexit talks, agreeing to shelve discussions on free trade until the cost of the multibillion-dollar divorce is settled. A politically weakened UK team appeared eager to show signs of progress on Monday, even if it meant accepting priorities set by their counterparts. Theresa May will travel to Brussels on Thursday to unveil the terms of a new British offer to guarantee the rights of EU citizens living in Britain.
A DNA analysis of mummified Egyptian cats has found all the world's tamed cats are descended from a single ancestor – the African wildcat or Felis silvestrislybica, a subspecies found in north Africa and the near east. Researchers studied the teeth, hair and skin of more than 200 ancient cats from Egypt, Viking graveyards and stone-age sites, and found the path to domestication began when farmers started stockpiling grain 9,000 years ago.
Sport
In their opening game of the Confederations Cup the Socceroos lost 3-2 to Germany in Sochi overnight. The team now fly to St Petersburg to meet Cameroon on Thursday night.
Before Wednesday night's State of Origin game two in Sydney, Joe Gorman reports from Queensland on the sporting event that galvanises and reflects Queensland so well. He says it's something of a secular religion, an annual event that even non-rugby league followers pay heed to.
Thinking time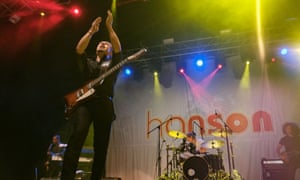 Posters of the 90s boy band Hanson used to paper the walls of writer Stephanie Van Schilt's teenage bedroom. So it was a thrill to attend their reunion concert now touring Australia, Middle of Everywhere, 20 years after their album, Middle of Nowhere, unleashed MMMbop on to the world.
In a perfect world, we wouldn't need it, but the newly launched Shebah ride-sharing app is proving popular with Australian women who just want a safe ride home.
A family cleaved apart by Australia's offshore detention regime tell their story. Jalal has been detained on Nauru for three and a half years, while his wife and daughter are being treated for serious illnesses in Australia. "It's torture to make us live far away from our family," Jalal told the Guardian. "We have nothing to live for."
What's he done now?
Or what hasn't he done? Donald Trump hasn't penned a tweet since noon Monday, despite a hectic news agenda, including the Finsbury attack (Trump has traditionally been quick to respond via Twitter to other terrorism attacks). The silence is an unusually long period of inactivity for the social media-obsessed US president, and CNN's Z Byron Wolf analyses what it could mean.
Media roundup
The Courier-Mail splashes with news Barnaby Joyce has been called to the aid of the LNP leader, Tim Nicholls, in the upcoming state election. The Australian says the Turnbull government has lost the confidence of the powerful Catholic education sector and the ABC's political editor, Chris Uhlmann, says the defence department will move its secret files back to a government-owned hub after it learned a Chinese consortium bought half of the Sydney data centre's parent company.
Coming up
The Coalition parties and the Labor caucus meet in Canberra.
New South Wales treasurer Dominic Perrottet unveils the state budget in Sydney with a $4.5bn surplus.
Support the Guardian
It might take a minute to catch up on the news, but good journalism takes time and money. If you already support Guardian Australia, your generosity is invaluable. If not, and you value what we do, please become a Supporter today. Thanks.